Flipping through the latest Anthropologie catalog, I fell in love with two pairs of boots. They're HAWT.
The basic:


overachiever boots, $398.00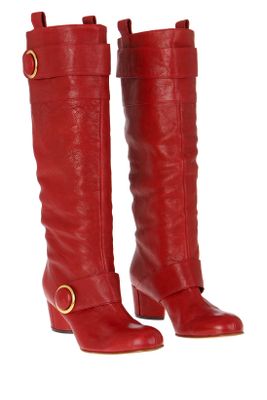 fifteen minute boots, $558.00

I really just wanted to show off these boots but I can put a design spin on it. Imagine a den or a library decorated around these two pairs of boots. I would install one full wall of bookshelves and stain them a deep molasses brown. I'd furnish with rich leather chairs, also brown and studded. The walls would be Venetian plaster in a moody red, with hints of gold to bring depth to the shade. Then I'd pull in the accent of tarnished brass: on lamps, sconce lighting, pencil cups, fireplace pokers, and throw pillows. And I haven't quite thought about the colors yet but I'm fairly certain the drapes would be in a stripe.